Spelling Bee 2019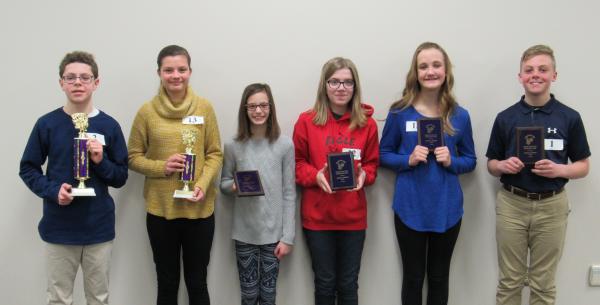 On February 2nd, the Wood County Educational Service center had the privilege of hosting the 2019 Wood County Spelling Bee. Nineteen contestants from 7 local area school districts competed for the chance to win one of the top six spots, along with the opportunity to represent their home district at the Toledo Blade Regional Bee in March.  

In a 22-round event, Aaron Mejiritski from Bowling Green Middle School came in first, winning the title of Bee Champion. Taking second was Lainee Partin from Northwood, with Shelby Janes from Bowling Green taking third, Eastwood's Samantha Strauss taking fourth, Aubrey Johnson from Elmwood taking fifth. Luke Armbruster from Elmwood won a tiebreaker round to take the sixth place seat. These contestants will advance to the Toledo Blade Regional Bee. 
The Wood County Educational Service Center's own Karen Lindquist and Stephanie Dyar helped with the hosting and administrating the bee, with Aaron Bailey from Lake Local Schools helping to coordinate the various districts. Jessica Blakely-Miller from Woodlane Residential Services judged the bee along with our own Wood County Educational Center Superintendent Mark North. Allison Garia, a Nestle Recruiter, and Luis Garcia of Shepherd Mechanical were the scorekeepers for the event. The Pronouncer, Bailey Poland, is a graduate student at Bowling Green State University in the Rhetoric program. 

Thanks to all of our volunteers, and congratulations to our champions!
Winners were:
1st Place: Aaron Mejiritski, Bowling Green Schools
2nd Place: Lainee Partin, Northwood Schools
3rd Place: Shelby Janes, Bowling Green Schools
4th Place: Sammy Strauss, Eastwood Schools
5th Place: Aubrey Johnson, Elmwood Schools
6th Place: Luke Armbruster, Elmwood Schools