Prevention Coalition graduates from CADCA Institute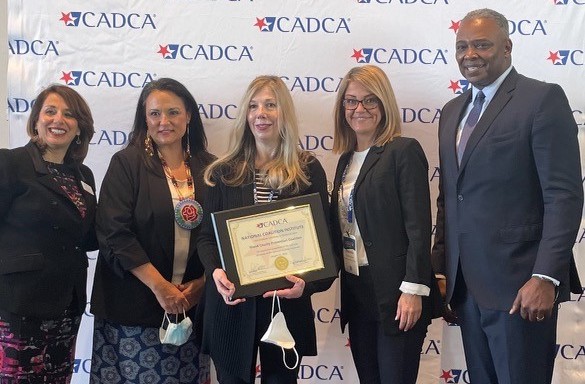 Wood County Prevention Coalition Graduates
from CADCA National Coalition Institute
BOWLING GREEN, OH-On January 31, 2022, the Wood County Prevention Coalition
graduated from the CADCA National Coalition Institute in the Potomac Ballroom of the Gaylord
National Hotel and Convention Center, National Harbor, MD. Coalition Coordinator Tina Bradley
and President Francesca Leass were in attendance to receive this honor. CADCA President
and CEO General Barrye Price addressed the graduates and Jeannie Hovland, CADCA Board
Member and Member of the Flandreau Santee Sioux Tribe served as keynote speaker.
The National Coalition Academy (NCA) is a comprehensive training program developed by
CADCA's National Coalition Institute and teaches leaders "what they need to know" (the core
competencies) and "what their team needs to do" (the essential processes) to establish or
maintain a highly effective anti-drug coalition.
The NCA is designed specifically for coalition staff and volunteer leadership. It combines three
weeks of virtual classroom training, three reinforcement on-line sessions and access to a web-
based workstation. The Academy's training curriculum is organized within SAMHSA's Strategic
Prevention Framework.
The Wood County Prevention Coalition completed the year-long training and met the
requirement of developing essential products (1) a community assessment, (2) a logic model,
(3) a strategic & action plan, (4) an evaluation plan and (5) a sustainability plan.
The Wood County Prevention Coalition unites compassionate community members working
together to coordinate high-quality programs for the prevention of youth substance abuse in
Wood County, Ohio. The Coalition was established in 2004 and boasts a stronger-than-ever
presence in uniting for a drug-free community. To learn more about the work of the Coalition or
to become involved, contact Bradley at tbradley@wcesc.org.