Outstanding Penta Student Karrah Klinger continues work at ESC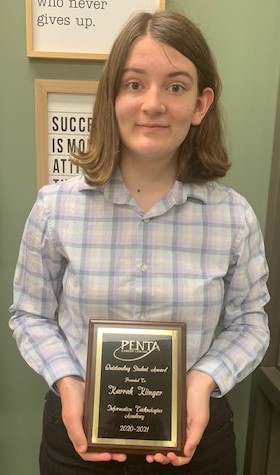 Karrah Klinger is a great example of how the Wood County Education Service Center serves the young people in our county. Through partnerships with area schools, agencies, and programs within the WCESC, we are able to provide opportunities for advancement in a student's field of choice.
Karrah recently graduated from Penta Career Center, receiving Penta's Career Passport. She also received the Outstanding Student Award from the Information Technologies Academy during the Senior Recognition Event.
For the past three months, Karrah has been working as an assistant to Peter Fellman, the IT specialist for WCESC. She has done such outstanding work that her services have been requested for the summer. This position was in turn made possible through the Empowerment Project, a program that assists young people in career development through grant funds provided via Wood County Job and Family Services.
Karrah has been accepted to BGSU for the fall to study computer technology, completing the circle. She is well on her way to a successful career made possible by her hard work and dedication, as well as the efforts of the community players.
Congratulations, Karrah!